UHF RFID Ear Tag With Small Size And Long Reading Distance
Chuangxinjia www.nfctagfactory.com 2019-08-27 11:40:17
RFID ear tag is an RFID tag that uses RFID technology to identify individual animals. The RFID ear tag has built-in RFID chip and antenna, which carries the individual
information of the livestock and is a personal identification card that proves the identity of the animal. Through RFID ear tags, we can accurately grasp the information of each
animal and realize the information management of animal husbandry. The application of RFID ear tags is also a major trend in the development of modern animal husbandry.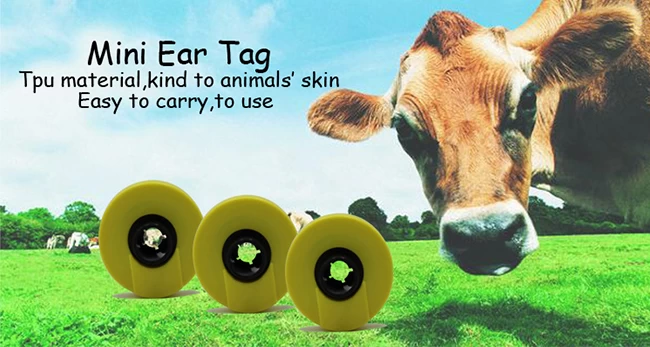 Recently, we have a UHF RFID ear tag: Compared with low frequency RFID ear tags, UHF RFID ear tags have lighter weight, cheaper cost, longer reading distance, and have a higher reading rate in multi tag conflict environments. It is packaged in non-toxic and tasteless TPU/ABS polymer material, which has good sun protection, dustproof and anti-soaking performance. Tag surface can also be customized laser coding according to requirements.

In recent years, the country has also vigorously promoted and required animal husbandry to use RFID ear tags. The reasons are as follows:
1. Conducive to animal disease control: RFID ear tag can manage the ear number of livestock together with the information of breed, source, production performance, immune status, health status and owner. Once problems such as outbreaks and animal product quality occur, you can track their source, clarify responsibilities, and plug the loopholes. So as to realize scientific and institutionalized animal husbandry and improve animal husbandry management level.

2. Conducive to safe production: RFID ear tags are an excellent tool for the clear identification and detailed management of a large number of animals. Through the RFID ear tag, the farm can detect hidden dangers in time and quickly take corresponding control measures to ensure safe production.

3. Conducive to improve the management level of the farm: Unique identification of an individual by assigning unique coded ear tags to each animal.

4. Conducive to the state's supervision of the safety of livestock products: The RFID ear tag of the pig is carried for life. Through this electronic code, it can be traced back to the pig's production site, acquisition site, slaughterhouse, and the supermarket of the pork sales and other information. Conducive to combating the sale of sick and dead pork and other public food safety hazards, supervising the safety of livestock products and ensuring that people eat healthy pork.

RFID animal tag is not a new concept, it is rapidly developing into an important means to improve the operational efficiency of feeding places, effectively monitor animal feeding and enhance the transparency of food supply chain. It has been widely used in various fields such as tracking, identification and management of livestock (pig, cattle, sheep, etc.).