RFID Helps Hospital Textile Management
Chuangxinjia www.nfctagfactory.com 2019-09-25 10:45:00
RFID hospital textile management is that hospital doctors and nurses uniforms, patient uniforms, bedding, sheets with RFID laundry tags. Using RFID readers to automatically identify the
intelligent management mode of textile registration, textile inventory, textile recycling, textile status inquiry, textile tracking, textile automatic sorting
and other management processes. This can better solve the hospital in textile management problems.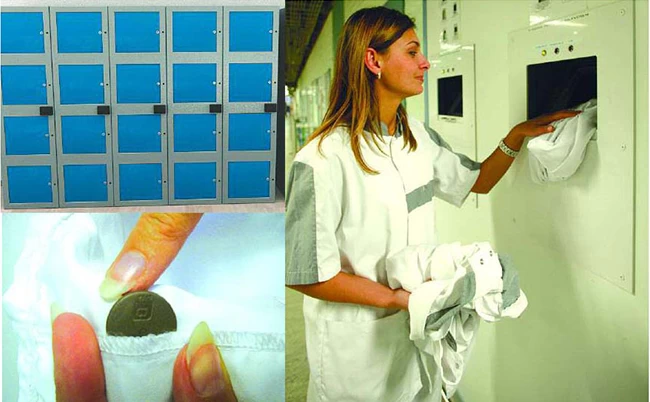 Main function modules:
1. Textile registration: For doctors and nurses uniforms linked to the specific user by the number, RFID laundry tags need to be installed on the corresponding uniforms and registered
to users in the system.

2. Textile distribution: Uniforms for special personnel need to be sent to each department for use by doctors and nurses. Qualified hospitals can order wardrobes with RFID readers, doctors and nurses can get their own uniforms by swiping card. The patient uniform, bedclothes and bed sheets of all departments are sent to all departments by special personnel through identification of textile RFID tags.


3. Textile recycling: Each department can use a clothes collection box with an RFID reader. The uniform is thrown into the clothes collection box and automatically identified. The number of clothes reaches a certain level, and automatically notifies the specially-assigned person to be responsible for recycling the clothes.


4. Textile washing: Washing factory staff will collect the textiles that need washing in each department, check and finish the handover with RFID reader or RFID handheld.


5. Other function modules: Personnel authorization management, system settings, statistical report query, etc.

Related RFID hardware products:
UHF RFID reader:
UHF RFID reader is a high performance UHF RFID reader based on the IMPINJ R2000 chip. Fully independent intellectual property design, combined with proprietary high efficiency signal processing algorithms, enables fast read and write processing of tags while maintaining high read rate. Widely used in various RFID systems such as warehousing, library management, weighing management, logistics sorting, intelligent transportation, access control systems, anti-counterfeiting systems and production process control.

UHF RFID handheld
UHF RFID handheld is a high performance UHF RFID handheld based on the IMPINJ R2000 chip. Configure the data collector with rich functions. It can be widely used in logistics express, equipment inspection, asset management, medical care, anti-counterfeiting traceability, product quality inspection, clothing order, mobile sales and other RFID systems.

UHF RFID washing label
UHF RFID washing label is a specific label for clothing, textile industry. Excellent performance with a unique tag antenna design. Widely used in clothing management, textile management, fur management, uniform management, etc.

high temperature UHF RFID laundry tag
high temperature UHF RFID laundry tag has the characteristics of small size, PC high temperature resistant plastic packaging. Maximum storage temperature up to 260 °C, maximum operating temperature up to 100 °C, dustproof and waterproof grade is IP65. Suitable for washing factory clothing management, uniform washing, high temperature equipment inspection, asset positioning, and so on.