Chuangxinjia won 3A highest credit rating and Advanced Enterprise in China RFID tag Industry
Chuangxinjia www.nfctagfactory.com 2018-11-15 14:07:00
Chuangxinjia won the 3A highest credit rating and the title of "Advanced Enterprise in China RFID tag Industry".

In Nov 13th 2018, China social and economic decision-making consultation center awarded "China RFID tag industry AAA Credit Enterprise" to Shenzhen Chuangxinjia RFID tag Co.,Ltd, at the same time, China Management Science Research Institute Brand Promotion Committee awarded "Advanced Enterprise in China RFID tag Industry" to Shenzhen Chuangxinjia RFID tag Co.,Ltd.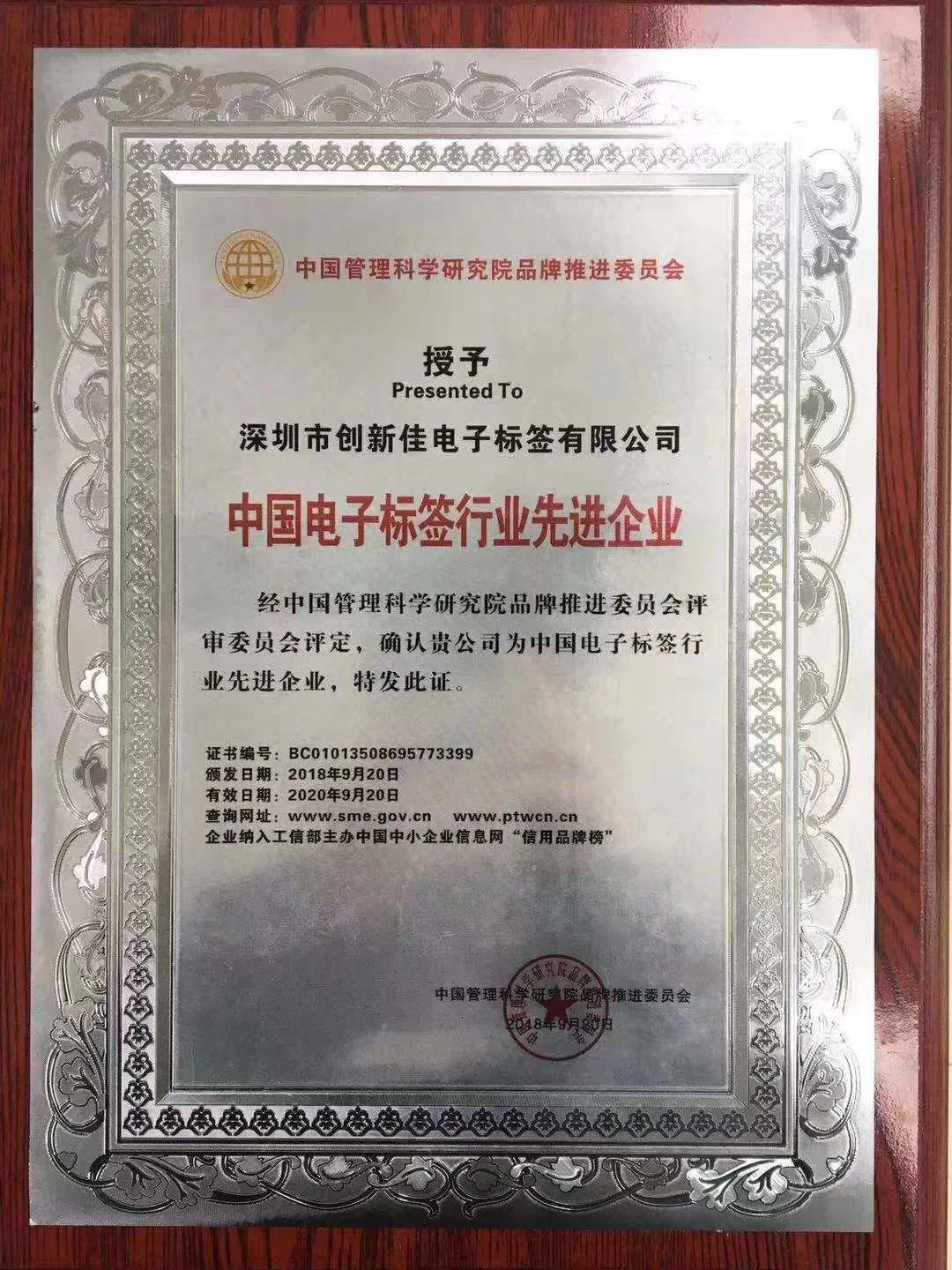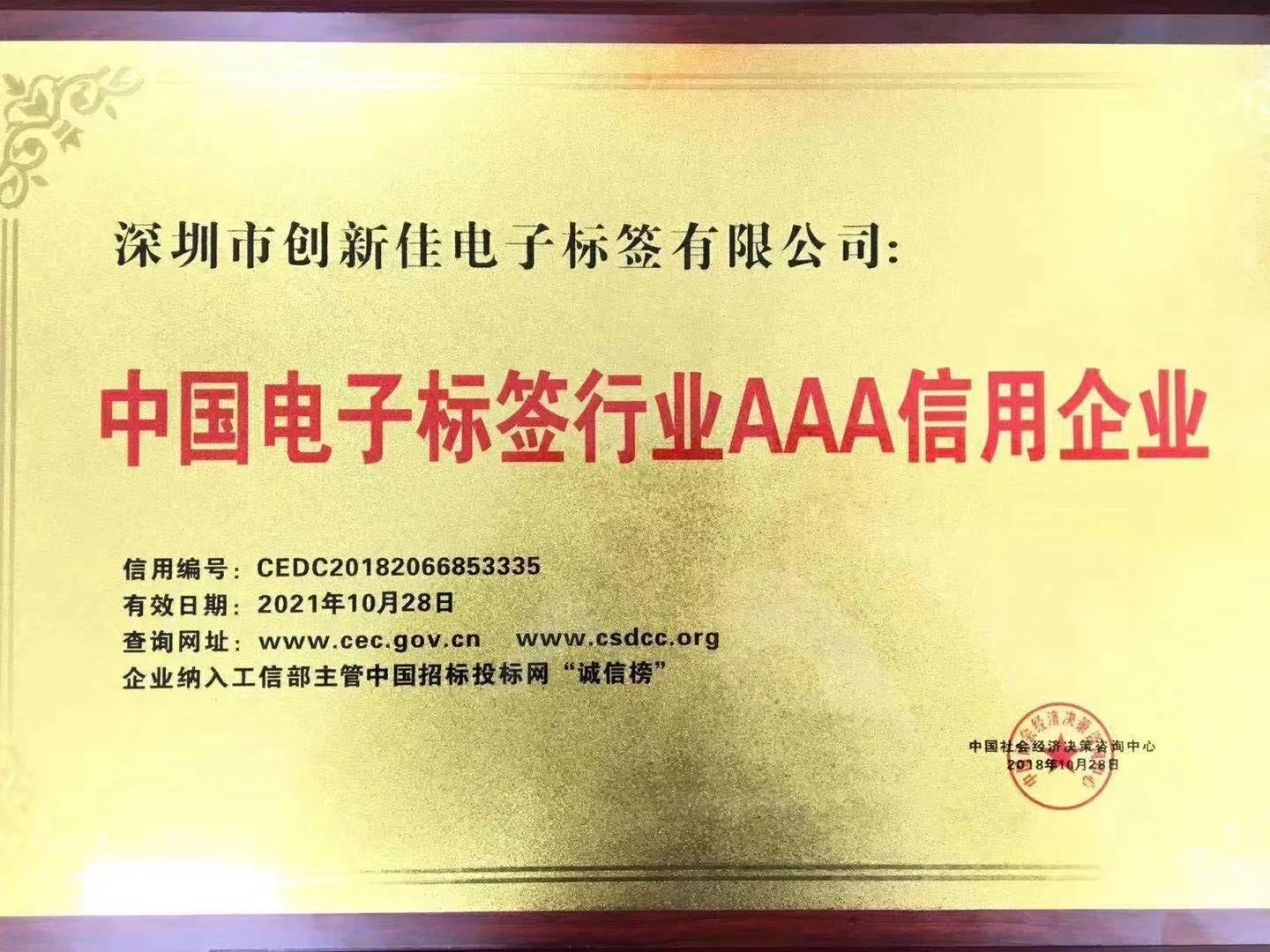 Shenzhen Chuangxinjia RFID tag Co.,Ltd founded in 2010, engaged in the manufacture of RFID products. As the technology matures day by day, the industrial model of "big factory +
big market + research and development" has gradually formed in the past 8 years. And now it has developed into a high-tech enterprise engaged in the research and development,
production and sales of system solutions, application equipment and terminal products. Till now, we have a sales team of more than 130 people who are skilled in business and
accurate in service. Our customers cover a wide range of fields including transportation, electronic communication, tourism culture, animal husbandry and fishery, medical and
health care, financial services and so on.
Chuangxinjia believes that the corporate credit rating reflects the ability of enterprises to fulfill commercial contracts and social responsibility, and is the authoritative
expression of the healthy daily operation of an enterprise. The rating agencies will conduct dynamic and static assessments of the company's operation and financial situation
when they conducting corporate credit rating. The evaluation dimensions include financial status, operational capabilities, technical strength, development capabilities and
prospects. There are 9 grades in the credit rating system, and the AAA grade obtained by Chuangxinjia capital is the highest level.
What does 3A credit mean?
Companies with a 3A credit rating mean with high credit ratings, low debt risk, excellent credit history, good operating conditions, stable operational capabilities, and
positive development prospects. Chuangxinjia was rated as a 3A credit enterprise. It is a comprehensive test result of integrity construction. It shows itself in accumulated
credit value and operation management value. It is the country and industry's recognition and affirmation of Chuangxinjia overall operation and credit. At the same time, for
Chuangxinjia customers, 3A credit rating means you can enjoy more comprehensive services and credit guarantees under all kinds of good preconditions.
At the same time, Chuangxinjia won the "Advanced Enterprise in China's RFID tag Industry", it is the country's high recognition for Chuangxinjia, and is a direct proof of
Chuangxinjia strength and operation, It is also a recognition and affirmation from an industry and customer. Please believe that Chuangxinjia will continue to set up the
business integrity; keep promise; improve the construction of enterprise credit system; promote the construction of the real economy; create a new situation of Chuangxinjia
career development, and become the main force to promote the healthy development of China's RFID tags industry.