What Are the Features and Benefits of MIFARE Plus?
Chuangxinjia www.nfctagfactory.com 2017-05-10 11:19:43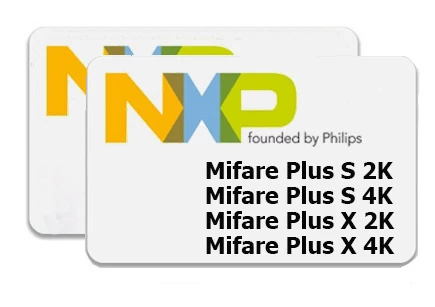 Migrate classic contactless smart card systems to new levels of security MIFARE Plus provides benchmark security for mainstream contactless smart card applications. It is the only one compatible
MIFARE Classic mainstream IC card. Providing an upgrade path for existing infrastructure and services.
MIFARE Plus is available in two versions: MIFARE Plus X and MIFARE Plus S. MIFARE Plus X provides more flexibility to optimize command flow for higher speed and privacy. It provides a wealth of
features, including proximity checks for relay attacks. MIFARE Plus S is a standard version for direct migration to the MIFARE Classic system. It is configured to provide high data integrity.
Feature
Fully in line with ISO / IEC 14443A international standards
The path of development and the road map of the future test - Standard interface to ensure that the current infrastructure can be easily upgraded to meet future smart card chip requirements
The anti-tear mechanism for writing AES keys
Support the concept of virtual card
High data rates up to 848 kb / x
Providing consistent product and multiple resource options at all levels of the value chain
MIFARE Plus SE
MIFARE Plus SE is an entry-level version of the MIFARE Plus product line certified by the universal standard. The price of the product is close to the traditional MIFARE Classic 1K. Provides a path
to seamlessly upgrade to a baseline security product within an existing budget for all NXP customers. MIFARE Plus SE cards can be easily distributed and run in the MIFARE Classic system.
It provides:
Only 1KB EEPROM (including the MIFARE Classic value block command based on the MIFARE Plus S feature set).
"Alternative compatibility mode" under the optional AES authentication command to protect your investment from counterfeit products.
MIFARE Plus EV1
The new generation of MIFARE Plus, a proven "MIFARE Classic AES-128 Security Upgrade Product", includes an extended feature set that supports wireless service and upgrades for some security-related
applications. MIFARE Plus EV1 offers the highest level of security enhancements, scalable, flexible and future-oriented.
Main Features of MIFARE Plus EV1:
Block intelligent security level switch
Available in 2 kb or 4 kb EEPROM
128 bit AES security
7B UID and 4B UID
Transaction MAC
For the small size of the 70 PF version
Application:
Traffic Tickets
Access control
Road charges
PARKING LOT
If have any interest in MIFARE plus card, contact us for a quote or samples. Free samples can be sent to you for testing.