Introduction of chuangxinja
2017-05-19 11:10:23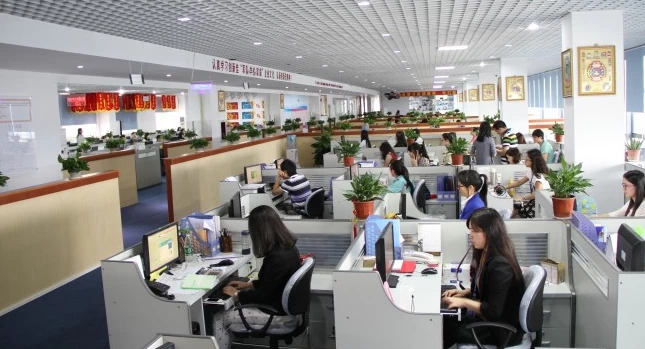 Chuangxinjia has entered e-commerce industry since 2008, starting with only 4--5 marketers, through years of efforts, more than 230 sales staff up to now. The headquarters office area reaches 3000
square meters, located in the high-end office building of Longhua central district (Datang Times Square), it belongs to the bamboo village industrial park, covers an area of 12000 square meters. Now the company has expanded to 5 subsidiaries, Shenzhen Chuangxinjia RFID tag Co., Ltd, Shenzhen Chuangxinjia technology Co., Ltd, etc.. The company has also successfully improved corporate culture and etiquette system.
1. New Production Lines
The biggest factory of the company: The card factory, The RFID tag factory. With the new CTP machine, equipped with heidelberg of five colors, four colors of printing machine, 12 synthetic
machine. Monthly production card of 40,000,000 PCS, Inverted bag sealing machine, composite die cutting machines, Monthly production smart card of 10,000,000 PCS, RFID tag 8,000,000 PCS.
2. The Idea of Development
We are not only a electronic commerce enterprise who sells our own products, but also a industry & trading enterprise who helps small and medium-sized business enterprises to develop.
Chuangxinjia will strive to establish an industrial mode with large factory, big market and R&D, specialized in IOT technology and RFID technological development.
At the same time, our company gives back to society continuously, has been committed to public welfare construction, for example, building the hope primary school for the students in Zhanjiang, donating for hometown to build the water tower, actively help Zhanjiang village for modernization construction, which were highly regarded and evaluated by hometown people and all walks of life, and played an exemplary role.
3. Technical force
As a National Hi-Tech Enterprise, we are focused on manufacturing a variety of RFID products that we have developed ourselves. We sell our standard products and develop bespoke products based on a client's set of requirements.
Awarded as China most influential RFID manufacturer and Emerging IoT enterprise, we have established good partnership with Qatar Airways, UK Telecom, Iran Public Tranport, Sony, Gree, OPPO, Coolpad, Samsung and some other well-known enterprises, have devoted to their 1-card-pass", anti-fake, logitics, healthy care, NFC payment and other applications on RFID.
4. Our Subsidiaries:
1.Hongkong Chuangxinjia International Trade Co., Ltd
2.Shenzhen Chuangxinjia RFID tag Co., Ltd
3.Shenzhen Chuangxinjia Smart card Co., Ltd
4.Shenzhen Chuangxinjia RFID tag Co., Ltd, Guangzhou Branch
5.Guangzhou Feiteng Junye gifts manufacturing Co., Ltd
Factory Address: A4 Building, Yingtailong Industrial District, Dalang South Road, Longhua District, Shenzhen City, Guangdong China
Office Address: 11~12/F, Datang Era Bldg, Meilong Blvd, Qinghu, Longhua New District, Shenzhen City, Guangdong China