In Order To Fight The Epidemic Together, Chuangxinjia Currently Offers Disposable Face Mask-3Ply.
Chuangxinjia www.nfctagfactory.com 2020-03-23 11:57:45
Disposable Ear-Loop face Mask-3Ply Spec.

| | |
| --- | --- |
| Product Name | Disposable Ear-Loop face Mask-3Ply |
| Product Brand | ShineYa(SY) |
| Product Size | Adult, 175×95mm |
| Production Date | 2020-03 |
| Storage Period | 2 years |
| Original Country | Made in China |
| Executive Standard | GB/T32610-2016 |
| Packing | 10pcs/bag or 50pcs/bag |

In January 2020, the "new coronavirus (COVID-19)" broke out in China, and the virus spreads quickly and widely. So China has started a series of epidemic prevention measures such as "Wuhan city closure", "masks for all people", "school suspension and work extension". Our entire country and people have joined the war against the epidemic. After effective prevention and control, our enterprises and factories across the country are gradually returning to normal operation. At all times, Chuangxinjia is a responsible enterprise, our employee has always strictly adhered to its position and actively contributed.

On February 3, 2020, Chuangxinjia RFID Supplier cooperated with upstream companies to produce medical products to support the fight against the epidemic in Wuhan. With the special approval of the government, our factory fully resumed production. The marketing department also started to work normally on February 24, 2020. Under the leadership of Chairman Wu Jun (Tony), the factory director and administration department implemented the specific epidemic prevention work, and cooperated with the guidance and inspection of relevant government departments. Strictly control the epidemic situation. Ensure that customers can place orders normally, and all paid orders are smoothly produced and shipped! At this difficult time, letting the company run smoothly, allowing employees to resume work safely and smoothly, and letting the factory resume production smoothly are the goals and directions of our concerted efforts.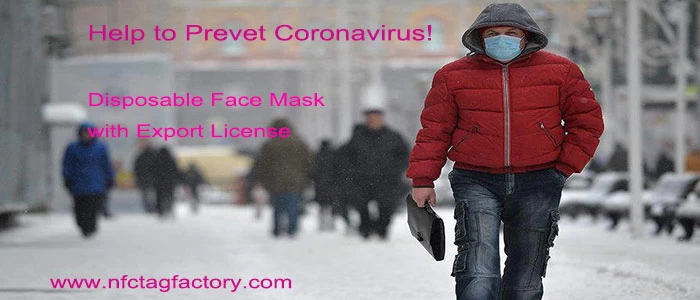 Since March 2020, many countries around the world have begun outbreaks the COVID-19. They are experiencing similar difficult conditions in the past three months in China, and medical supplies are in short supply. In particular, disposable face masks are in short supply as effective anti-epidemic weapons to block the "spreading of droplets." Recently, we have received a lot of purchase requests from foreign customers. In order to help everyone have enough supplies to protect themselves and their friends and relatives. Chuanginjia has controlled the mask factory that meets the customs export standards to produce a variety of disposable masks for everyone. The details of the mask are as follows:

Chuangxinjia RFID Supplier  will supply high-quality disposable masks during this special stage of the epidemic. Customers in need are welcome to consult and place orders! Contact us at  info@nfctagfactory.com

May the people of the world join hands to fight the "new coronavirus" and end the epidemic as soon as possible. May our life be as good as ever!