Chuangxinjia RFID Manufacturer - RFID Laundry Tag Steam Test
Chuangxinjia www.nfctagfactory.com 2020-06-29 12:22:49
When it comes to apparel retail, folds in clothes can have a huge impact on sales.
For manufacturers all over the world, opening a box of goods may look different from the original concept, which is not surprising.
These creases and wrinkles, no matter how small, may affect the customer's desire to buy. After all, who would be willing to use hard-earned money to buy a garment that looks far from new?
This is why for many years, stores have ensured that their products have been ironed before they are displayed. However, this may cause more problems for retailers, especially those who invest in RFID, because RFID laundry tags may be damaged or fail due to high temperature and high pressure during this process.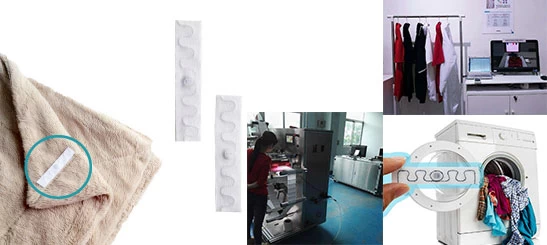 As RFID is more and more widely used in retailers around the world, more and more suppliers are now selling inferior products. The RFID clothing tags of these suppliers are easily disabled during retail manufacturing processes (such as steaming), thereby wasting the energy invested in investing in stores to improve inventory accuracy.

Checkpoint's RFID tags and inlay have undergone a series of reliable tests to ensure that they can function properly in the retailer's manufacturing environment.

Checkpoint's steam channel test was developed to mimic the internal conditions of industrial clothing "wrinkle remover", so that the company can prove to customers that the appearance and performance of its RFID clothing tags are not affected by steam.

Importantly, Checkpoint uses a test device to expose its tags to the same temperature and humidity conditions produced by commercial steam tunnel systems.

Test results show that Chuangxinjia's RFID tags can also withstand a "real environment" temperature of 100°C under a pressure of 0.69 BAR for 3 minutes.

Chuangxinjia realizes that customers also need to ensure that its brand is not affected by the steaming process. Therefore, in addition to inlay performance, the company also uses finished product design and logo to test its labels to ensure that the integrity of the brand is not adversely affected.

Due to the company's in-house manufacturing technology, after the steam test, the print quality and brand base inventory are still fully readable.

If you want to know more about RFID laundry tags, or you need products like laundry tags, please contact us immediately!

Email: info@nfctagfactory.com