Brazilian retailers use RFID technology to reduce 80% of checkout time
2018-07-13 12:47:07
Mari Semi Jewels, a door-to-door selling lingerie and cosmetics retailer, has deployed RFID Moura's RFID solution to optimize the checkout process. The company has 2,000 sales
consultants in Brazil.
Alex Casado, managing partner of the Mari Group, said that in the past, the order checkout process took 30 minutes, but now it takes less than 6 minutes and is more reliable. He
said: "The solution has other benefits. The solution encodes each item to provide complete traceability."
The original purpose of the solution was to speed up the checkout process and free up warehouse space to store other products. Prior to the deployment of the RFID system, the
company had six employees who manually completed the process. Now, only 4 employees can complete these tasks. More than 400,000 RFID tags have been in use since deployment.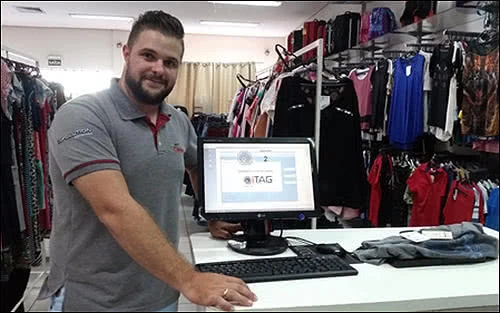 "At first, it is hard to see the value of RFID tags that are 30 times more expensive than regular tags," Casado said. "After discovering the value of RFID tags and starting to deploy, the exchange of tags has become the biggest problem."

The process of adding RFID chips to ordinary tags lasted three months. During this time, the company configured the parameters of the ERP system and adjusted all internalprocesses.

Casado said: "Next, we will apply RFID to all product lines. At the same time, we will also optimize the warranty process and traceability process."

Before the RFID system is installed, the sales consultant needs to choose to order the goods, then put them into the package and hand them to the employee for counting. Theemployee then use a scanner to scan the item barcode and enters it into the company's inventory management system. This process takes 30 minutes. Using RFID technology, this time can be reduced to less than 5 minutes.

Without RFID technology, employees usually cannot process orders within the day. In addition, this process is often wrong, which often causes complaints from customers.

In the past, this process required a lot of space, and RFID eliminated this need. Now, the company only needs a 4-antenna RFID reading box and an Acura EDGE 50 reader.

RFID Moura has developed an application for counting the information and quantity of items in the package and comparing it to the required quantity, while transferring the datato the consignment control system.

Tales Boalim, RFID Moura's Technology and Innovation Manager, said: "We integrated the RFID Moura solution into the company's system. They used the Zebra Technologies ZD500R printer and have so far purchased 250,000 CCRR RFID tags to mark items."

Using the RFID system, employees will enter the package ID and number of items in the application created by RFID Moura after the employee has counted the items required by the sales consultant. Then, these items will be placed in the read area for reading. After the system reads the item, it will update the status on the distribution screen. Thecompany said the system recovered its investment within 10 months.