CXJ's Traditional Manufacturing Transformation And E-commerce Enterprise Upgrade
Chuangxinjia www.nfctagfactory.com 2015-12-03 15:17:22
After severe and frequent reshuffle these years, it proved that a great sales team is the key to success. 2015 is a tough year, build sales team is the most important and urgent thing. We have to do it, and do it well. But how? Today, Tony Wu, the president of Chuangxinjia Group, will share with us his experiences on the transformation.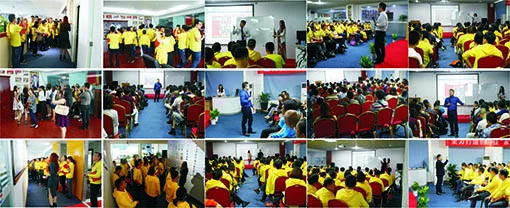 when he was a sales manager of a factory, he took over the factory with dozens of people.  It was a hard time, the mistrust of suppliers, the meager profit of national market. Tony Wu realized the conveniences of cooperation with international clients.

Then he joined Alibaba platform and built the first foreign trade team, it have expanded to 34 foreign trade teams now. Of course, there was many problems, employee turnover, Salary & welfare, Rules and regulations of company, Corporate Culture etc. Every point have stories, there were many troubles, these troubles makes Tony grow quickly, finally he built his own management model. I am sure what Tony will share today will inspire you and bring you and your company some new ideology and life.

We receive Eb-usinessman every week from all over the country, Tony always full of passion and devote to sharing his experiences and answer questions, he will give you advise based on your situation, he is the one who can guide you to a success E-Commerce enterprise!