The June Summary Conference Of Chuangxiajia Smart Technology Co., LTD
Chuangxinjia www.nfctagfactory.com 2015-07-27 14:52:43
The June Summary Conference of Chuangxiajia smart Technology Co.,LTD was held on July 13, 2015,at 6:00pm.
First show is mini concert.Beautiful songs and music warmed the conference atmosphere quickly. Then manager Mr Zeng min from Fengyun team made the work report on behalf of Marketing department.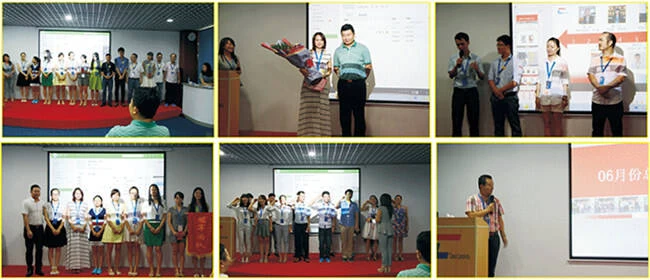 After morning meeting'reformation and two month's fierce competition,Fengyun team and Rose team win the champion team eventually,the star of morning meeting are two beauties:Qiang Hou and Jie Lou.
Personal outstanding achievement champion winner is JinLi who studied products with effort and full of positive energy called yummy mummy.group outstanding achievement champion gained by rose team which leaded by manager Long.in that team,all members are ladies,they have strong study capacity and team collaboration ability.everyone do each pieces thing with sense of mission .they team swept all awards this month, is not they lucky, But their hard work and efforts!
Competition is the power, let's Maintain the enthusiasm to do work! Six-month of PK is already entering the white-hot stage,Monthly data also affects everyone's heart,Who will be the winner at last Let's look forward to it together.
The last part----summary report for June & Plan for July were made by President Wu, General Manager Zhang and Other Leaders.