Ferngrove Wines To Trial NFC Smart Bottles In China
Chuangxinjia www.nfctagfactory.com 2015-07-21 18:26:47
Australia's Ferngrove Wines is to equip smart wine bottles in China with NFC tag to help authenticate individual bottles throughout the supply chain, ensuring they are packaged, shipped, stocked and purchased in their original factory-sealed state.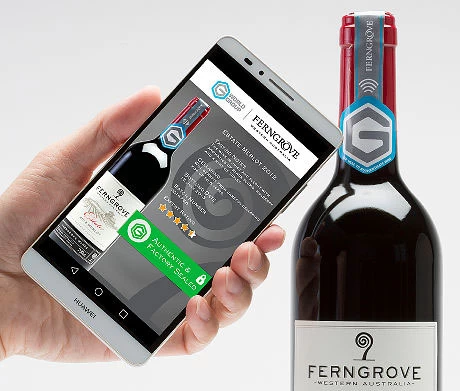 The trial will be the first to stem from a partnership between Norwegian printed electronics specialist Thinfilm and authentication solutions provider G World Group to develop the smart bottles, the first of which will be unveiled at the GSMA's Mobile World Congress (MWC) in Shanghai this week.

"G World has placed a seven-figure unit order for NFC OpenSense tags as part of the agreement with Thinfilm and in conjunction with the planned Ferngrove field trial," Thinfilm says.

Ferngrove is a major supplier of five-star red wine to the APAC region and exports more than 600,000 bottles annually to China alone.

"This smart wine bottle will feature Thinfilm's patent-pending NFC OpenSense tags and G World's globally patented Samscan process, providing a compelling choice to global consumers for the purchase of authentic produce and consumables while delivering significant anti-counterfeit protocols for the agricultural and beverage industries."

NFC OpenSense tags can dynamically detect if a bottle is sealed or open and can be read with the tap of an NFC smartphone. The company previously showcased a Diageo smart bottle equipped with OpenSense tags earlier this year at the Mobile World Congress in Barcelona.

"Field trials will take place in select China markets, given the scope of anti-counterfeiting there," Thinfilm told NFC World. "Decisions about additional locations will be made after initial trials."

Transparency and accountability

Anthony Wilkes, CEO of the Chinese-owned premium wine company Ferngrove Wines, says: "As one of Western Australia's pre-eminent wineries and a major exporter to China, Ferngrove is dedicated to ensuring the authenticity and quality of our premium wines for our loyal consumers.

"We're excited to collaborate with G World and Thinfilm and look forward to implementing this unique solution over the coming months."

"The G World system is designed to enhance trade and productivity for industry," adds G World's managing director Grant Shaw.

"One of the significant outcomes is an anti-counterfeit framework that provides transparency and accountability at all stages of the supply chain."

French spirits brand Rémy Martin is also set to launch a connected cognac bottle equipped with an NFC tag in China that will let consumers check the product is authentic, whether it has been opened and resealed, and to retrieve rewards and special offers after it has been bought.