New Silicone RFID Bracelet Helps Fitness Tour More Easily
Chuangxinjia www.nfctagfactory.com 2017-11-28 17:08:35
How does a gym with new era characterisitcs do a good a job? How to build an internet + gym?
With the simple appearance, the integration of powerful management chip, this silicone bracelet can make your gym distinctive, and bring high-end experience to picky customers,
enjoy the convenience of smart technology.
Wavy wrist strap design, adopts food-grade silicone material, very soft and comfortable, even when the violent movement of the hands, the wrist is still no pressure.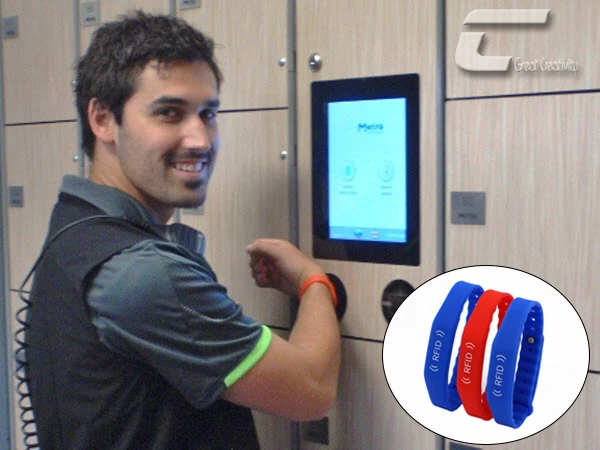 When handling the gym membership, presenting the customer a silicone bracelet can open the door of convenience to them and is also the first choice for member service upgrading.
Members use silicone bracelet as access control card, gently brushing freely, while the locker can also be modified to open the door, which provides members long-term custody
services.
Through the background system, gym can easily know what equipment usage is high, more convenient to communicate with members, so that customers feel the warmth of care services.
If members is about to be expired, just gently brush the wristband at the reception, they will be able to complete the renewal, no cash payments easier.
As long as the customers experience well, will you still worry about the gym sales?
Is this smart gym, it's more convenient than the traditional card points consumption, more efficient membership management and save more manpower costs?
Convenient, so cool!
One second to unlock, two seconds to pay, three seconds to love it!
Identification function, widely used in parks, gymnasiums, exhibition halls and other scenes of various access control systems, can open the door and get attendance in one
second.
Background cloud intelligent management, each silicone bracelet is a member-owned ID card, more convenient to manage big data.
Can be customized with NFC payment function, lightly touch to complete the payment, recharging, financial revenue and expenditure management, makes customer shopping experience
more easily.
Shenzhen Chuangxinjia is focusing on the field of RFID bracelets for more than 13 years. Wristbands is embedded with well-known brands at home and
abroad original chips(NXP, IMPINJ, ATMEL, France INSIDE, the United Kingdom JEWEL, Fudan Microelectronics, Hua Hong IC, etc.), introduced with foreign advanced production
technology, so the quality is assuranced. Products sold at home and abroad, widely praised by customers. Welcome to consult and discuss!