Fitness center uses RFID technology to reduce the risk of towel loss
Chuangxinjia www.nfctagfactory.com 2018-10-09 16:05:02
Many health and fitness centers use passive UHF RFID solutions to manage towels and prevent towel loss. The system can prevent towel loss, manage towel usage time, return time
and confirm the time needed for washing. The system can also be used in other vertical markets such as hotels and healthcare facilities.
Usually, the fitness center will suffer losses due to the loss of towels. In fact, some potential customers say that a normal-sized club needs to replace 150 towels per month.
These towels are often taken home by members inadvertently. Before installing RFID systems, these companies lacked reliable ways to prevent such losses. In addition, the EAS
tags on the market cannot withstand the towel washing process and cannot be tracked after the towel leaves the room.
Chuangxinjia developed an RFID-based solution to track towels and other items that are often washed and difficult to manage. Founded in 2005, our company is an RFID product 
manufacturer integrating r&d, production and sales. Our customers cover a wide range of fields such as transportation, electronic communication, tourism culture, animal 
husbandry and aquaculture, medical and health care, and financial services.
These fitness centers can attach UHF RFID tags themselves, or can be attached by third-party laundry service providers. Chuangxinjia provides passive UHF RFID tags, users can 
choose the attachment method (sewing or pasting) according to their needs.
UHF RFID reader installed at the entrance of the fitness center. The data of the towel label is stored on the server for management. If a person leaves the fitness center with a
towel, the reader at the entrance will ask for the tag and then forward the ID number to the server via a wired connection. Then, the alarm installed on the door will sound to
remind the staff or the front desk to check.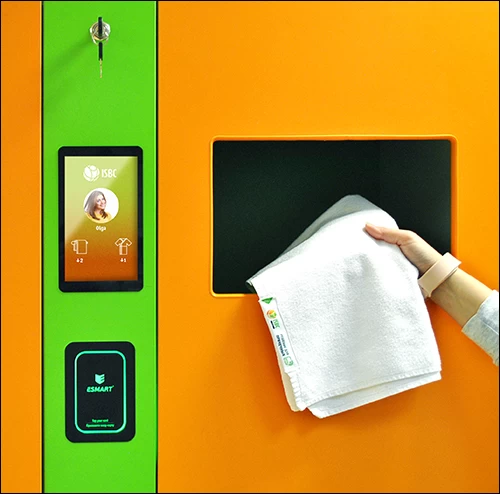 Wet clothes and water bottles in fitness packs present some challenges to label reading and require some engineering optimization. Therefore, engineers conducted liquid environment tests during the development and installation of the reader antenna to ensure reliable reading of the required distance. The system's read rate is almost 100%.

Some fitness centers also plan to install UHF RFID smart wardrobes to help manage the towels on site. To use the wardrobe, the customer needs to use an ID card to open the wardrobe door. The software then updates the information about the person who took the towel.

After the customer takes the towel away, the antenna will no longer read its ID number, and the system will associate the towel with the personnel information. After use, thecustomer can throw the towel into the box behind the wardrobe. The antenna inside the box will detect the RFID tag and update the towel status to returned in the software.

When the number of dirty towels reaches the set value, the software will send a message to the employee for washing and replacement. The wardrobe can hold 200 to 300 clean towels, which can meet the needs of most fitness centers.